I live in the wonderful state of Illinois, which legalized civil unions last year.  Now, there are small groups of advocates who are intending to sue the State for full-fledged marriage equality.
This whole process (state-level decision-making re: same-sex civil union / marriage) seems so strange and interesting to me.  I wonder how the Fed Gov decides which aspects of the Law will be handled at the State and/or Fed level.  (I know there's info on the Internet for me to Google and find the answer to this concept, but (a) I don't feel like it, and (b) I'm waxing on as an individual, tax-paying citizen.)
It does not make sense to me to have some states legalize civil unions / same-sex marriage, while other states amend their constitutions to ban any recognition of union / marriage except for heterosexual couples.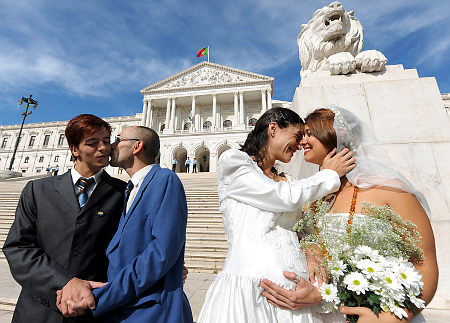 Same-sex rights and privileges aren't trivial.  Instead, there's a direct impact on the safety and protection of individuals, couples, and families who either reside in or visit states which have outlawed recognition of any type of same-sex relationship.  Vacation plans, job opportunities, and other reasons for interstate travel require forethought beyond the considerations heterosexuals would need to undertake.  For example, God-forbid there's any need for hospitalization while in a non-inclusive state, partners will face unreasonable obstacles to visit or make decisions.
Anti-homosexual amendments pose greater consequences than legal matters.  The majority vote reflects the social climate.  So, if the majority votes to outlaw same-sex equality (marriage, housing, adoption, employment, etc.), then the social climate reflects homophobia and incubates its consequences.
Opponents of same-sex equality who swear up and down that they're not homophobic, just protective of "traditional" relationships, are either exceptionally ignorant, lying, in denial, or unwilling to recognize the shared value of every human regardless of differentiating characteristics.  It wouldn't be surprising if some of these opponents were also against equal rights for African-Americans.  (In fact, although now retracted, the wife of one of the North Carolina lawmakers stated that Amendment 1 served to protect and proliferate white, heterosexual marriages and families).
Denying equality, no matter the package presentation, acts as another way of making one segment of society superior while lowering remaining segments to various degrees of inferiority.  As long as individual states have the power to legalize this distinction, the Fed Gov affirms its approval of inequality among U.S. citizens.
So, I continue to pay my Fed and State taxes, knowing I am safe in my resident state, but may face legal and social homophobic consequences once I cross the border – even though I am a U.S. citizen traveling interstate.  In this scenario, my driver's license provides the only sense of equal rights for this lesbian.
As an individual, my state's driver's license will be recognized no matter the route or destination.  Yet, if I had a civil union / marriage license, it would not be valid in the majority of the United States.  Somehow the Fed Gov believes my privilege to drive carries more value than the option of same-sex marriage.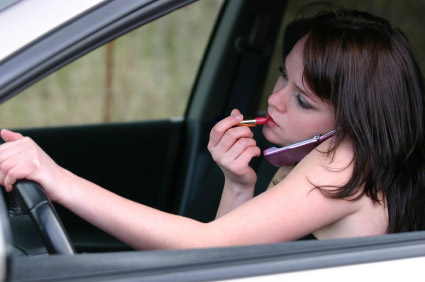 Think about this: In all 50 states I am legally allowed to drive my car, which has the potential to cause injury and/or death due to an accident.  Has there ever been a documented case of marriage (hetero or same-sex) directly causing injury or death?  (Leave out peripheral situations such as travel to/from the ceremony, in-law trouble, food poisoning from the reception, and abusive relationships, I cannot imagine the marriage of two individuals as a direct threat to anyone's safety.)
If the intention for denying marriage equality was to maintain and strengthen a healthy, growing society, then I would think it  would be more important to regulate procreating couples who have the potential of producing offspring.  The variety of offspring as we see currently in our country shows there's no such thing as perfection.  Why not outlaw procreation of individuals who may compromise the gene pool, have family histories of addictions and criminal activity, or have limited potential in the workforce?  Oh, right, this concept known as eugenics, has been practiced elsewhere with devastating consequences, and thus has been deemed unethically inhumane.
Whether or not same-sex marriage becomes Federally legalized, the LGBTQ community will always exist.  Denying  rights and privileges does not protect "traditional marriage."  Only committed couples who continuously work towards nurturing a healthy relationship have the power to protect their traditions.
Meanwhile, the LGBTQ community in the U.S. does not have equal protection under Fed Law.  Not having the same benefits as heterosexual counterparts acts as a form of punishment and segregation.  This alone goes against the U.S. Constitution.
So, heterosexuals who are against LGBTQ equality, would you rather have your straight sons and daughters marry a closeted homosexual or would you prefer our country to have room for everyone to be open and honest about their orientation, with the opportunity to legally marry according to their personal reasons?
I can guarantee you that the first option has a strong probability of ending in divorce, which is contrary to a stable traditional marriage.  If viewed from this perspective, outlawing same-sex marriage does not protect the sanctity of heterosexual marriage.  Instead, marriage inequality sets up traditional marriage for failure in some relationships created to appease an anti-homosexual society.
Denying equality to one segment of society never has increased the value or strengthened the cohesiveness of the dominant group.  Either you're valuable, healthy, and strong on your own, in your personal relationship, or you're not.  There is no correlation between "out" same-sex couples and the stability of heterosexual couples (see: a conservative's point of view, results from a poll taken of Iowa residents after same-sex marriage became legalized, and "Does gay marriage destroy marriage?" a data-filled article on Slate).  In other words, my same-sex relationship will not and cannot destroy your heterosexual marriage – especially if it is legal and safe for me to live openly as a lesbian, because then I won't have any legitimate reason to deny my orientation, marry a man in order to be acceptable to our society, and eventually become unfaithful or divorced due to mismatched orientations within the marriage.
Loving, committed relationships provide more safety and stability than the combination of all those drivers on the road posing potential risks to everyone within the vicinity of moving vehicles.  If we want to protect our society, marriage licenses must hold more equity and value than the equal recognition of driver's licenses.  Being a human with the freedom to love and marry according to orientation must be more important than the DL card in my wallet.  Otherwise, I'm not a fully-recognized U.S. citizen with inalienable rights.